Pastor Emeritus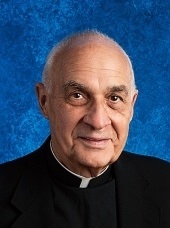 The first pastor of St. Mary Magdalene Parish, Father Donald F. Staib, is a native of Williamsport, Pennsylvania. He attended St. Boniface School there before entering the seminary--the Pontifical College Josephinum in Columbus, Ohio. He was ordained a priest in 1961 to serve in the Diocese of Raleigh, which at that time covered the entire state of North Carolina.

He served in parish assignments in Newton Grove, Kings Mountain, High Point, and Greensboro before he was assigned various roles in Catholic education. He has served as Director of Notre Dame High School in Greensboro and Charlotte Catholic High School. For four years he was Superintendent of Schools for the Diocese of Raleigh.

In preparation for his work in education Father Staib received a Masters Degree in School Administration from Fordham University in New York City and a Ph.D. in education and anthropology from the University of North Carolina in Chapel Hill. During some of his church assignments he was able to teach part time at both the University of North Carolina in Charlotte and at North Carolina State University in Raleigh. In addition for seven years he served as consultant for federal innovative education programs in North Carolina.

Father Staib also served in the Bishop's office for six years, both as Director of Planning and as Chancellor. In 1982 he was appointed pastor of Immaculate Conception Church in Durham where he served for fourteen years.
In 1982, he had a three-month sabbatical, which he spent in the Philippine Islands teaching English and American culture to refugees from Southeast Asia. He returned to help in the refugee camps for brief periods four additional times.

When his term in Durham was complete, Father Staib lived for one year in Vietnam where he taught at local universities and in the major seminary in Nha Trang. After traveling for two months in various Asian countries he returned to the United States to begin the work of the new parish in Apex.
In 1997, Bishop Joseph Gossman assigned Father Staib to found a new parish in southwest Wake County. Developers had offered land in what is now called Amberly in west Cary. At that time there was no available water there, so after a two-year wait it was decided to go elsewhere.

St Andrew parish had already purchased land on Apex Barbecue Road for a new parish; plans were adjusted to begin the new parish on that location.

Until September 1999, it was not possible to find any available temporary space for Sunday Mass in Apex. Then a room became available at Apex Middle School. By that time construction had begun for the first St Mary Magdalene Building, designed to be the school.

The school opened with first classes in August 2000. Mass was offered on the weekend in what is now the school media center/parish office/Faith Formation area until the completion of the Activity Building in 2004.