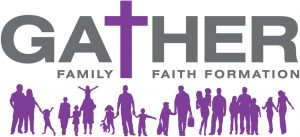 We offer programs beginning in first grade through fourth grade. This model is based on experiential learning and relational ministry in small group settings rather than classroom style learning. The objective is to prepare the children to have a lifelong appreciation of the sacraments of Reconciliation and Eucharist while understanding the ways in which they can live out their Catholic faith through scripture, service and prayer.

Families will attend Gather together in the church and then after opening prayers, the children will break into small groups by grade level while the parents remain in the church. Gather is offered on the second and fourth Tuesday nights in the church and school buildings from 6:30-7:45 pm (see Gather calendar on our website for exceptions). Parents are expected to attend with their children. There is no virtual option available for Gather.
Registration is available online beginning August 1, 2021 until August 31, 2021. Click the link in the right column marked "Gather Registration" and you will be asked to login using your St. Mary Magdalene login that you created upon registering with the parish. The fees for Gather are $80/child. Registrations received after 8/31/21 will be assessed a $50 late fee. For assistance with your login, please contact the Parish Secretary at 919-657-4800 x7281.
Additionally, a materials fee of $75 for First Reconciliation and First Eucharist will be assessed and can be paid when you register. This includes two workbooks, one for each sacrament, two retreats and all the supplies provided for sacramental preparation. Scholarships are available to families based on need. Gather is offered to registered, contributing parishioners.