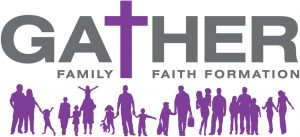 We're so excited to share with you our new family centered faith formation program called GATHER. This new format is not only fun while formative, it also will allow you to control your own schedule of when your family focuses on faith. This model is based on experiential learning rather than classroom learning and promotes building community; something we have all truly missed. For those of you who had children in the ROCK, rest assure, the format will remain largely the same for the breakout sessions. They will NOT be going back into the classroom teaching model even though they will be "in the classroom".
GATHER provides you with the tools you need to help form your child's faith so that it will last long after high school. The benefit of this program is that it only requires you to be on campus one night per month, while teaching your children at your convenience, the other three weeks of the month. Families will attend together in the church, arranged in pews by family, socially distanced seating every other pew and wearing facemasks.
Please note if your child is eligible to receive the sacrament of First Reconciliation and First Communion that training will also be offered to both parents and their children.
A packet will be sent home with each family that contains the lessons for the next three weeks of the month. Through engaging, down-to-earth, easy to understand lessons and activities, GATHER brings parishes and families together to learn their Faith in joy and with excitement. This shared learning experience develops traditions and spills over into families' everyday lives—incorporating the Catholic Faith becomes a way of life!

Should you have health concerns that prohibit you from attending a session, there will be a virtual component available "GATHER - Virtual." We hope you will join us in our efforts to continue your children's faith formation and that Gather will provide many blessings for your families.

Gather is offered from 6:30 – 7:45 pm on the following evenings:
1. First Week of the Month on Wednesday
2. Second Week of the Month on Tuesday
3. Third Week of the Month on Wednesday
4. GATHER - Virtual Only with Monthly Packet Pickup

"Education in the faith by the parents should begin in the child's earliest years. This already happens when family members help one another to grow in faith by the witness of a Christian life in keeping with the Gospel. Family catechesis precedes, accompanies, and enriches other forms of instruction in the faith. Parents have the mission of teaching their children to pray and to discover their vocation as children of God. The parish is the Eucharistic community and the heart of the liturgical life of Christian families; it is a privileged place for the catechesis of children and parents." (CCC 2226).
Gather COVID Protocols

Registration is now closed for the 2020-21 School Year.
Registration will re-opens July 1 – August 15, 2021